Concussion Testing
In the wake of research studies in our sport AMA Pro Racing mandated that a Concussion Program be instituted and every effort be made to enhance safety within the sport. A voluntary program in 2012, AMA Pro Racing and MX Sports Pro Racing mandated testing neurocognitive test program for their 2013 season and beyond.
All Athletes are now required to conduct baseline testing prior to receiving credentials for racing AMA professional Supercross or Motocross series'. In addition, repeat testing is required every other year.
The Medic Rig's neurocognitive testing and concussion management program has provided a safety protocol for our professional riders. We believe this program, directed by Paul Reiman, MD has already seen improvements in enhanced safety equipment and more precise evaluation and standards.
PLEASE
READ THIS PAGE BEFORE YOU TAKE THE TEST
Username: baseline@themedicrig.com
Password: HoleShot201

You will receive an email confirmation immediately after completing the test. Please forward this to the credentialing organization (AMA or MX Sports) for your test requirement.

Do not delete this email confirmation as you will need it for
future credentials for two years.

If you want a copy, you will have to have a printer installed and ability to generate a pdf
RIDER BASELINE TESTING RESOURCES
Dr. Paul Reiman
(909) 732-5268
baseline@themedicrig.com
POLICY STATEMENT – TEST REQUIREMENTS - PROCESS
Please review this information prior to beginning your test.
Remote Proctor Now System – Policy for Online Testing
Objective: This policy outlines proctoring and testing security expectations for athletes when online neurocognitive testing is performed.
Standards: Cheating on examinations is contrary to ethical standards as articulated in the AMA Code of Conduct Policy.
Neurocognitive baseline tests are proctored.Tests are proctored using the Remote Proctor Now System. Athletes taking online neurocognitive tests through the Alpinestars Mobile Medical Unit are required to use this system. Online tests will not be available to athletes unless the Remote Proctor Now system is used.
Process: The Remote Proctor Now system will be used with online testing as instructed by Alpinestars Mobile Medical Unit staff. Athletes are required to establish identity following the procedures outlined in the Remote Proctor Now instructions.
---
TEST ENVIRONMENT REQUIREMENTS
The online testing environment should mimic the 'in class' testing environment, and must conform to the following:
A quiet, secure, fully lighted room for the examination
No other people in the room.
No communicating with anyone; with the exception of contact with a Program Coordinator or support in an emergency. This includes the prohibition of cell phone use for any purpose.
No leaving the room
External cameras, when possible, should be placed on the lid of the laptop or where it will have a constant, uninterrupted view of the test taker.
No music playing
No headphones or ear buds allowed
Have the web-cam correctly situated:
Web-cam must be focused on individual taking exam at all times.
Nothing covering the lens of the camera at any time during the exam.
Lighting must be "daylight" quality and overhead is preferred if at all possible. If overhead is not possible, the source should not be behind the student.
Remote Proctor Now works with a web-camera and microphone either built-in or attached to the computer. In addition, testing requires the use of an external mouse. (Wired is preferred, but wireless can be used as well) These devices identify the student and capture video and audio throughout the exam and upload it to SSI's secure servers. This video will be used for the purpose of establishing if any suspicious activity occurred during the test.
REMINDER: IF YOU WANT A COPY, you must have a working printer or the ability to create a pdf.
Generally, wherever the athlete chooses to take the exam, everything possible should be done to mimic a traditional proctored exam environment. All exam videos can/will be reviewed by the Program Coordinator. If cheating is confirmed, the athlete will be referred to the AMA Policy on General Offenses and Penalties.
Athletes are encouraged to treat their personal exam location as if it was on a school campus.
TESTING PROCESS
The baseline test itself is free; however there is a $30.00 charge for using "Remote Proctor NOW", an online service that monitors students during an examination. You must have access to an appropriate testing environment, have an online connection, a web camera, and an external mouse. Baseline tests are a 30 minute proctored computer based exam. There are no pass/fail scores. It is used to compare with a post injury test.
The process is as follows:
Step 1 – Testing Begins with an Equipment check. Make sure that your microphone is connected and your volume is on.
Step 2 – Choose Exam Information as follows and then complete the Test Taker Information.

---
Step 1 – Click Start New Test

Step 2 – Click on Pull Down Menu and Choose First time test takers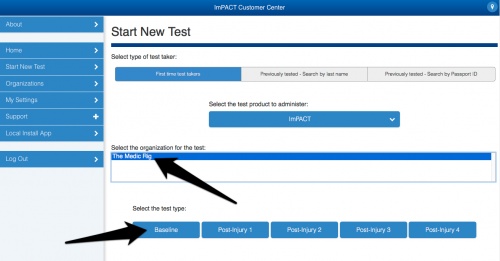 Step 3 – Choose The Medic Rig and Baseline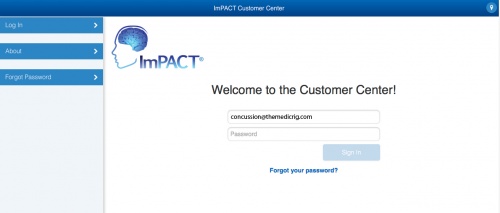 Step 4 – Begin Test by answering demographics questions
Step 5 – At end of exam, print and/or save results if you would like a copy. You will receive an email that must be forwarded to your sanctioning body. Keep this as you will need it in two years for renewal.
---
***** Important Note *****

If you receive this message during your exam, please select and
click "I'm in the exam now".
This message indicates that the 30 minute test timer has reached 00.00; You may continue the test after that point.
Any other choice will leave you out of the software.
DO NOT choose "Quit"
DO NOT choose "I need more time"
When you are ready to begin, click on the image link below.

Thank You
---
Questions should be send to:
concussion@themedicrig.com

Contact information for Product Technical Support:
Note: For Remote Proctor Now Support – 855-436-2039. International support requests can use 1-617-658-2879.
Agents within our call center will be available 24/7 to answer calls, but will only field basic questions—such as hitting the "Insert Exam Password" button, and navigating through the Authentication steps. All technical-based questions/issues will be escalated directly to L2 support and responded to from 7AM-7PM ET, Monday-Friday. Copyright © 2011 Software Secure Incorporated. All rights reserved.
USADA IV Infusion Information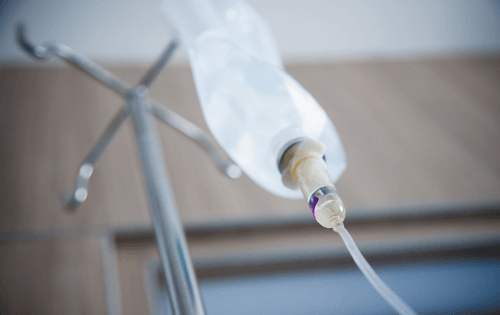 The US and World Anti-Doping Agency Prohibited List (WADA Prohibited List), includes all substances and methods that are prohibited in sport, including substances and methods that are prohibited both in-competition only, as well as those that are prohibited at all times.
Below is important information about the IV rule, why IVs are prohibited, and how athletes can best comply with the rules.
WHAT'S THE IV RULE?
All IV infusions and/or injections of more than 100 mL (~6.8 tablespoons) per 12 hour period are prohibited at all times, both in- and out-of-competition, except for those legitimately received in the hospital, during surgery, or during clinical investigations.
If it is a prohibited substance that is administered intravenously or via injection, a TUE is necessary for this substance regardless of whether the infusion or injection is less than 100mL.
Infusions or injections are permitted if the infused/injected substance is not on the Prohibited List, and the volume of fluid administered does not exceed 100 mL per 12-hour period.
WHY THE IV RULE?
To protect clean sport and athlete health and safety. It is a fact that IVs can be used to change blood test results (such as hematocrit where EPO or blood doping is being used), mask urine test results (by dilution) or by administering prohibited substances in a way that will more quickly be cleared from the body in order to beat an anti-doping test.
WHAT ARE THE HEALTH RISKS OF IVs?
Potential risks and complications of IV therapy, include Infection, cellulitis, inflammation of the wall of a vein with associated thrombosis, Bleeding, hematoma/arterial puncture, unintended leakage of solution into the surrounding tissue, air embolism and needle stick to the provider.
Inappropriate levels of electrolytes given by IV can also have serious cardiac, muscular and nervous system effects, even resulting in death.
CLICK ON THE LINK TO BELOW TO DOWNLOAD PAPERWORK IF YOU RECEIVE
AN IV PRIOR TO A SANCTIONED EVENT
Additional information can be found at https://www.usada.org/iv-infusions-explanatory-note/